The Scrubbery Needs Your Help
---
Whilst Putney MP Fleur Anderson calls on PM to solve the national scrubs crisis



Some of the Scrubbery Scrubs in action

A New Zealander living in Putney, Rosie Taylor-Davies, formerly Head of Commercial Studio at the Royal School of Needlework, and mother to a Doctor working in the NHS, began sewing scrubs at the start of the pandemic when her daughter and colleagues found themselves having to go into work without appropriate PPE.

With the help of family, friends and volunteers, Rosie and the team now have almost 100 volunteers. The team known as The Scrubbery, has provided over 1500 sets of scrubs to hospitals across south west London including St Georges, Royal Brompton, Kingston, Hillingdon and St Helier hospitals.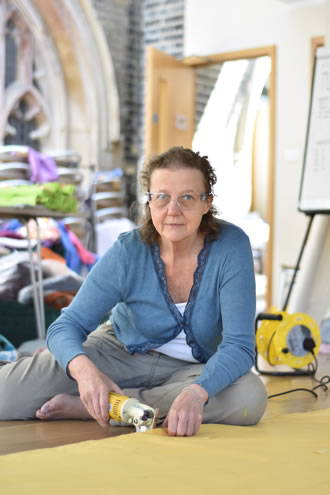 Rosie Taylor-Davies continues to cut 1000's of scrubs for sewers!

Initially based in St Mary's Church, Putney, the hub has now moved to the Bank of England Sports Club, SW15, from where the material is cut and packaged up for our volunteer machinists to sew from home.

As well as providing an essential service for our NHS frontline workers, The Scrubbery aims to foster a sense of community spirit and connection, giving volunteers a common sense of purpose.

As other London scrub hubs have started to close down, and in the absence of a sustainable long-term solution to the scrubs crisis, demand is still high. The Scrubbery is now supplying scrubs and masks for key workers, with requests still coming from care homes, dentists and PCTs as well as London hospitals. St George's hospital recently put in a large order for face masks, and medical students starting in September have been told to source their own scrubs from volunteer scrub hubs.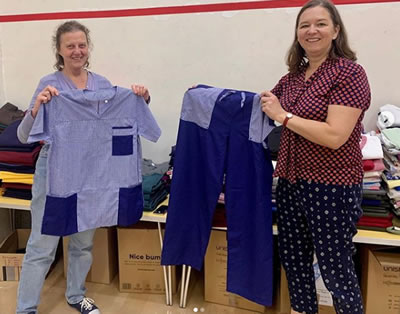 Putney MP Fleur Anderson in the 'squash court workroom' with Rosie

Putney MP Fleur Anderson, who has visited the Scrubbery in action, used her final speech in the House of Commons before the summer recess to call upon the government to solve the national scrub crisis. She took time to thank the nationwide team of volunteers with a special mention for Rosie and her team: "I would like to take this opportunity to thank the volunteers across the country who have worked very hard to rise to the challenge of the national scrubs crisis. Demand went up hugely. Previously, 20% of healthcare workers had to wear scrubs, but since covid-19 most of them now do so. The Government have simply not risen to meet that demand, so volunteers across the country—from Shetland to Devon, and at the Putney Scrub Hub— have stepped up. They have sewn and cut and worked all hours. I pay particular tribute to Rosie Taylor-Davies, who has led an amazing team of volunteers. They have made 4,000 scrub sets for the Royal Marsden Hospital and 3,000 sets for St George's Hospital, and have also supplied care homes, dentists and breast-screening clinics. These are not small orders; they meet a large, industrial-scale need."

The Scrubbery team continues to need more volunteer sewers to help meet the demand for scrubs and masks. Full instructions, pre-cut material and ties are all provide, you just need a sewing machine and an ability to sew.
They are also in need of someone to help part-time with admin. If you are able to help in any way please do contact them by email: scrubbery.stitch@gmail.com or contact us and follow us on Instagram @The Scrubbery.

Fleur Anderson continued in her speech to draw attention to some PPE contracts, "There have been multimillion-pound contracts for PPE, which need to be explained. They include a £252 million agreement with Ayanda Capital Ltd, a company owned by the Horlick family through an entity based in Mauritius, which is a tax haven. In addition, £108 million-worth of PPE contracts were entered into with a chocolatier and a supplier of pigeon netting—strange choice. And an £18.5 million contract was awarded in May to Aventis Solutions, which is an employment agency with net assets of £332 million. During this week's hearing of the Select Committee on Science and Technology, the Matt Hancock failed to provide any answers to the questions asked by Dawn Butler as to why those contracts were awarded and how much PPE they have actually provided."




Ms Anderson then called on the government for action and not to rely on the teams of volunteers: "We do not have a national plan on scrubs, so we are relying on volunteers such as Putney Scrub Hub in Roehampton, which has taken over squash courts and is working all hours to make the scrubs that we need. Garment factories are lying unused and garment workers are unemployed, even though we have this huge need. Months into the crisis, we are still relying on volunteers to meet this need. It cannot go on.

" How much longer are the Government planning to rely on volunteers to provide basic health equipment? Why is there no sustainable national scrubs manufacturing plan, with a proper UK supply chain using garment factories to meet the needs of all of our health workers? We have applauded them on Thursdays and we know how much we owe them, yet many of them lack the basic equipment. Medical students have been told to provide their own. Doctors have been told to bring in tracksuits. People have been told that they need a call-out for children's pyjamas for medical need.

She finished: "The Government needs to put this issue at the top of it's to-do list over the summer recess. It needs to bring together the Treasury, the Department for Business, Energy and Industrial Strategy and the Department of Health and Social Care to put together and deliver an urgent scrubs plan before we return in September, so that all our NHS and healthcare workers have the equipment they need, and all the volunteers at Putney Scrub Hub and across the country can put away their sewing machines, put down their scissors and get back to their normal lives."

Meanwhile the Scrubbery continues and if you are not keen on the sewing or admin, you can still get involved - they need financial backing to do this, which is where you can help.
Click this link to find out more information about how to help financially.
July 30, 2020